Stacey's Furniture Shop
How To Make Money Upcycling Furniture Guide
Regular price
Sale price
£38.99 GBP
Unit price
per
Sale
Sold out
THIS IS A DIGITAL PRODUCT
Once you have made your purchase your link will be sent to you, on rare occasions, this can sometimes take up to 24hours.
Do you want to create a life for yourself that is completely on your terms?!
Do you dream of having the flexibility to work the hours that suit you, rearrange your diary at short notice if something comes up that takes priority, and not have to beg your boss for the days off that everyone else also wants, aka Mothers Day, Fathers Day, Easter Sunday, Christmas, Valentines etc?! Well would you believe me if I told you, you can have them all!
Painting furniture has been my full time business since I founded Stacey's Furniture Shop in 2018. It's provided me with an income that has allowed me to buy a home, pays my bills and mortgage, go on holidays and, I even bought the business a van last year to help make deliveries that bit easier!
I have the luxury of being able to get creative (yes being creative is a luxury, and like therapy too!) every day and 'work' never feels like work! I've worked for some fantastic clients and been approached by some really exciting people. I have a passion for helping people create homes they love and are proud of, and I get to call that my job! Pretty unreal to be honest.
I started my business because I loved painting furniture and I was good at it, but I had little to no experience or knowledge in running my own business. I sometimes guessed my way through because I didn't find the right resources available to me and I think without sheer grit and determination to succeed I wouldn't be celebrating a five year biz anniversary in a couple of months!
I wish I had invested in a guide like this, to help fast track me to where I am now. I want to help set you up on the right path, and get clear on your business vision to propel you to success faster and with more ease!! I wanted to create a super affordable resource that I wish I could have had when I started my business - I had no idea what an ideal client was or what SEO even meant!!
You don't need to write a 107 page business plan, with tons of graphs to start a business. Yes, you need to be clear on your vision, goals and how you want to make it happen and this guide is here to get you clear and get you started on your way to making sales…

Inside the guide -
An introduction to the different ways you can monetise your painted furniture.
Getting clear on your services, what you want to offer, why this is important. Defining your niche and tailoring your services to this.
Understanding your ideal client, and how this will make you more sales. Worksheet to create your ideal client profile.
How to create furniture that sells and looking for what's trending.
Choosing your selling platforms and what you need to consider, whilst picking the best ones for you based on your ideal client.
What you need to include in your sales listings to make your potential customers want to buy your furniture and how to optimise your SEO (search engine optimisation) on Etsy.
Ways to gain repeat customers, they are the key to a great business, so harnessing them will be your superpower!
What makes a good brand and how to create your brand and logo, plus create your business mission statement based on all the work you've done in the guide!
There are notes pages and worksheets throughout.
AND I've included ten quotes/realisations/statements at the end of the guide, that completely transformed my mindset in my painting furniture business that unlocked the door to more sales and repeat clients!
So whether you want to make some extra cash as a side hustle or go big and want to make this your full time income. This is your sign. You need my guide! So grab your copy and start curating a business and a life that works for you!
Share
Care information

KEEP AWAY FROM WATER

Occasional spillages will not damage your furniture, however all spillages should be cleaned up promptly.

Avoid placing cups/glasses directly on your furniture, always try to use a coaster.

Be especially careful with alcohol/makeup/nail polish remover as this will stain your furniture.

TEMPERATURE

Temperature changes can cause damage to painted or wooden furniture over time. If you can, ideally place your furniture somewhere that is less exposed to rapid temperature changes within your home.

CLEAN REGULARLY 

In order to keep your furniture in the best condition I would advise to clean weekly, using a damp lint free cloth and dry thoroughly with a dry cloth. 

For furniture that has been sealed with wax you can apply a clear wax once or twice a year to maintain water resistance and shine. (I recommend 'Rust Oleum' clear furniture wax). NOTE This only applies to chalk painted furniture.

PLACING ITEMS

I recommend using felt backing for large items such as lamps and ornaments to avoid marking your furniture. 

TOUCH UPS

Make sure the area you intend to paint is clean and dry. Using a small amount of paint on your brush, touch up the necessary area and allow it to dry for at least four hours before applying a second coat.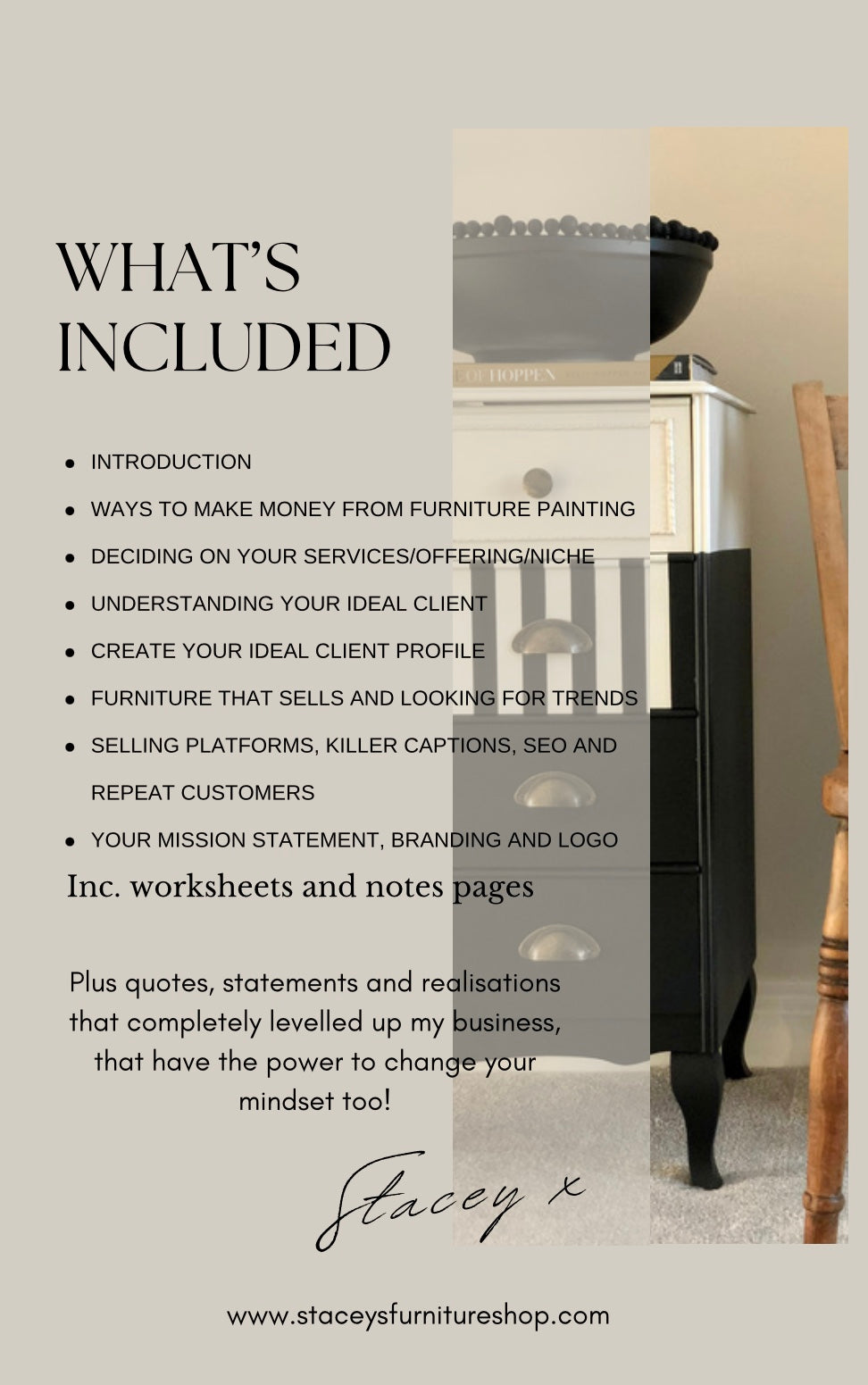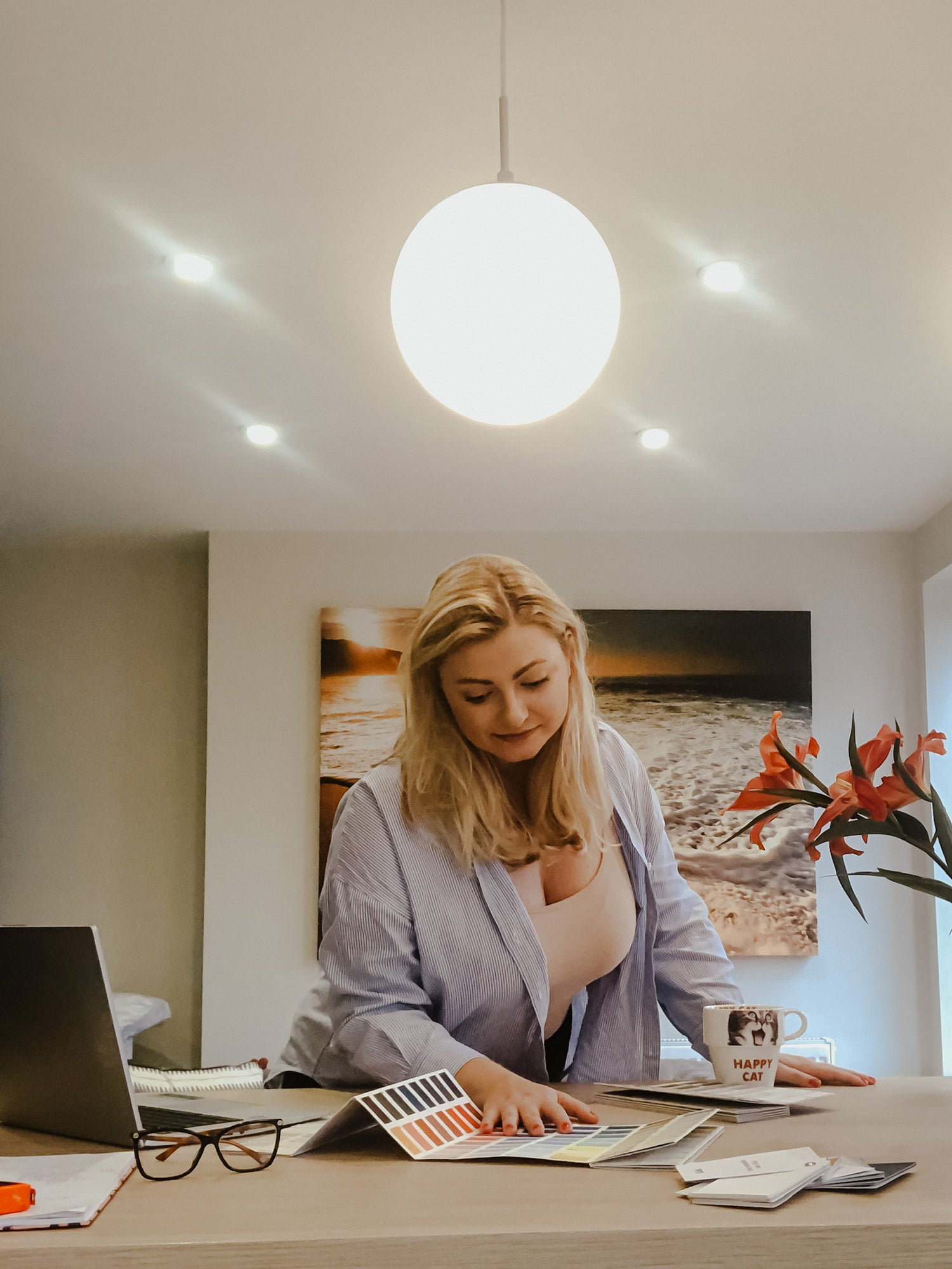 Take advantage of my sourcing service
If this piece isn't quite what you are looking for, I can source your perfect piece for you and finish it exactly how you choose.
I always have pieces in stock, so it may be that I already have what you are looking for!
Find out more